The Most Reliable Roofing Around
How Long Does Our Roofing Last?
Most roofing lasts around 25 years, but it's not uncommon for a roof to need replacement earlier. Hail damage, poor attic ventilation, low-quality roofing materials, and poor roof installation are just a few reasons why you may find yourself needing a new roof. Thankfully, RNK Handyman is here to cover all of your roofing repair and installation needs.
How Do I Know if My Roof Needs Repair?
You can assess your roof's condition by performing what's known as a "roof maintenance check."
Use binoculars to examine your roof. If your shingles are cracked, distorted, or just missing, this is a sign your roof may need maintenance.
Check gutters and downspouts for granules and grit runoff from the roof shingles. This may be a sign that your roof's shingles are deteriorating.
Check the attic to see if there is any daylight seeping through the roof. If sunlight can get in, you can bet rain and insects can too, and heat can escape.
If you see any of these issues, call RNK Handyman today to schedule a consultation, and we will take a look.
What Can I Expect from my Roofing Consultation
During our consultation, a representative from our organization will visit your home and explain your roofing options. We offer a variety of different kinds of shingle to meet your budget and style, including:
3-tab
Architectural
Designer
We also offer the best options in ventilation, underlayment, and gutters. We will ensure to provide you with a price estimate before we get to work.
What Can I Expect from the Installation Process?
First, our professional installer will visit your home to determine the amount of roofing material needed and answer any questions you have. The roofing materials are then delivered directly to your home. Our roofing installers keep in mind every aspect of your home while we work. We strive not to disturb anything on the property with our work, whether it's your family or your outdoor plants, and we always clean up after we're done. After the installation, we inspect the site with you and immediately address any issues, to make absolutely sure you are getting the service you want.
Expert Roof Replacement
The most important part of your roof replacement is ensuring that you have quality roofing materials and expert installation. Our products don't just look great; they provide lasting durability for your home. We believe our work always speaks for itself through the quality of work, strong customer service, and consistently high ratings.
How Much Will My Roof Replacement Cost?
The critical thing to remember is that a roof replacement will save you money in the long run, as a damaged or worn roof will always wind up costing you money. In addition, even if you have no leaks or mold growth damaging the interior of your home, a damaged or ineffective roof can let heat escape, leading to higher energy bills as you try to keep your home warm.
Pricing models for roof replacement or repair depend on a variety of factors.
Cost Per Square Foot: Most of your roofing cost estimate will be based on the square footage, as the larger roof means more materials and more labor.
Roof Pitch: "Pitch" is another word for slope; a higher slope can increase the coverage area while also increasing the work required for the installation. Roofs with a particularly high pitch tend to require special equipment, for example.
Roofing Materials: The quality and color of the material used for the roof shingles will affect the final price, as will the durability, appearance, and warranty coverage. Asphalt is currently the most affordable roofing option.
Location: The price is also affected by the location of the home. This is because building codes can vary between municipalities. Weather impacts need to be taken into account as well.
Roof Complexity: The style of the roof can make a difference as well. A particularly complex home design can be more expensive to replace. The length, width, slope, and number of layers all contribute to the overall cost.
Whatever you need from your roof, RNK Handyman is here to make sure you get it within your timeframe and budget.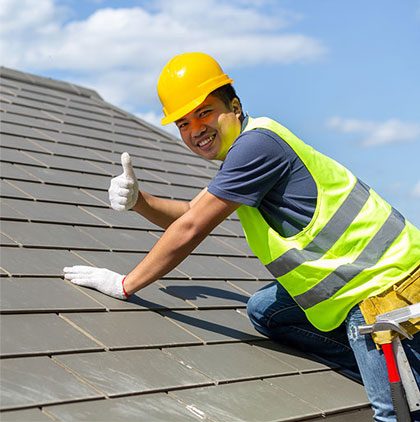 For Exterior Handyman Services
---
Drywall/Plaster
Leaks
Smoke Detectors
Stucco
Gutters
Plumbing
Windows
Doors
Water Heaters
Patio/Decks
Exterior/Interior Walls
Roof
Kitchen
Painting
Bathroom
Moulding Trim
Floors
Lights
Siding
Carpentry
Home Remodel
Other

Sears Franchise in Southern California
Home Depot Pro Referral Company


Approved Vendor